Genealogy Store
Preserving the past is our passion. With over 30 years of genealogy research background, helping people find their roots is something close to our hearts. But also, finding a way to display and share those roots.

~ Let us help you display all those wonderful things you have packed away in boxes ~
Ask, we can probably do it! 

Family tree research and genealogy
Organized albums and wall displays
Photo restoration
Restore albums destroyed in a flood or fire
Multi-discipline wall art: photographic, painting, drawing & mixed media
We can help you produce anything from a poster, to a work of art. We can compile a book of your family history. You can have it in a variety of versions - a pdf you can print yourself, an e-book, or a hard or soft back book to display on your coffee table!
Contact us at: acousin@connectingcousins.com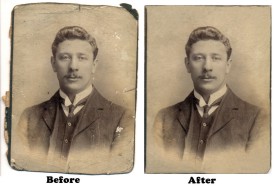 Researching Your Tree
We can help you. Connecting Cousins is just that, a long list of cousins connected by researching our family trees. We know the desire to find your roots, and where you came from. We love to help. If you don't know where to start, or have hit a brick wall check out our Links page, or feel free to contact us at: acousin@connectingcousins.com
---