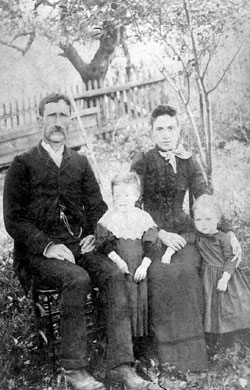 Cousins working on this line - Brian Bookwalter, Annemarie Halfpap
Claypool(e) Family
The Claypool's are a family line that is all over Armstrong County Pennsylvania. The lines crisscross a number of times in the family tree, but our basic branch is through Minerva A. Gillam. She is pictured at the right with her husband Judson Wayne Claypool and their daughters Josephine and Ivy. Minerva was the daughter of John and Emily (Claypool) Gillam. You have to go way back to James and Lucretia (Garwood) Claypool to get the connection. That would be Emily's 2x great-grandfather, and Judson's 3x's great-grandfather.
So, that leads to the question of how do we approach the Claypool family history? There are a number of books already written about the Claypool(e) family. "Armstrong County Pennsylvania, Her People, Past and Present" published by J. H. Beers & Co in 1914 has much history of the Claypool line. As well as the "Biographical and Historical Cyclopedia of Indiana and Armstrong Counties, Pennsylvania" published by John M. Gresham & Co. There are a number of volumes of "The Claypoole Family in America" compiled by Evelyn Claypool Bracken. There are also online updated research articles like B. M. Chapman's "Correcting the genealogical and historical record" on www.claypoolefamily.com which specifically addresses errors in past research. In fact there are so many that it has become a very confusing mess!
So instead of doing the usual dry factual history, we are going to do something a little different here. Our cousin Brian is the great-great-grandson of Minerva (Gillam) Claypool. Thanks to his maternal line he has a wonderful collection of photographs. So, here we will give you a different kind of family history. Below we will give you a brief synopsis of our take on the untangling of the 'mess' and confusion we have referred to.
---
Claypool Family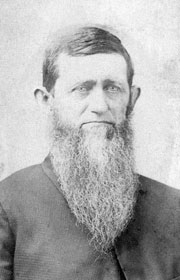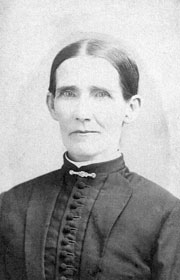 William Culbert and Mary Ann (Boyd) Claypool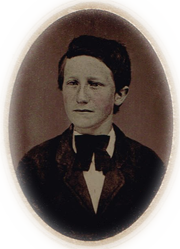 Judson Wayne Claypool (pictured at right) was born August 29, 1860 in North Buffalo Township, the son of William Culbert and Mary Ann (Boyd) Claypool. On January 24, 1890 he married Minerva A., or "Minnie" Gillam. She was born on March 16, 1872, the daughter of John W. and Emily (Claypool) Gillam. Minnie and Judson had 7 children, Josephine, Ivy, Bessie, Wesley, Rosie, Flevious, and Clare. One thing very interesting about their children was that a number of them had no children of their own, or lost them at a young age.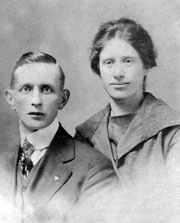 – Josephine was born on November 16, 1889. She first married Joseph F. McKelvey on December 24, 1915, and we find them on the 1920 census both age 30. In 1930 they have a 10-year-old daughter Margaret, but found nothing thing else about her. She isn't mentioned in Josephine's obituary, and Josephine was said to have had no children.
Joseph died in 1941, and Josephine went on to marry Herbert Moorehead. He died on December 15, 1965. Josephine died at age 83 on January 23, 1973.
Simpson's Leader-Times (Kittanning, Pennsylvania)
Dec. 19, 1930 - Union Baptist Church North Buffalo township, held a roll call Sunday and 169 members responded to their names. Many references were made to the time "when the roll call is called up yonder." The Misses Josephine and Ivy Claypool and Arthur and Harvey Claypool sang "One Sweetly Solemn Thought." The roll call was reported a grand success. The only drawback was a shortage of gas and consequently a rather cold church building. But so great was the interest that the coolness of the house passed almost unnoticed.
| | | |
| --- | --- | --- |
| Sisters Josephine, Bessie and Ivy Claypool | Claypool Homestead - Photo taken from where present day Livengood Road meets Cadogan Slate Lick Road | Josephine and Ivy Claypool |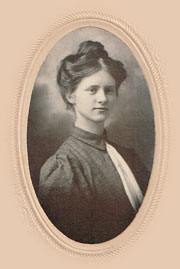 – Ivy Tamson (pictured on the right) was born on August 23, 1891. She married William Lawrence Younkins in about 1909. William's mother was Lydia Walker, daughter of William and Magdaline (Bowser) Walker. They had two children, Arnold F. and Pearl.
Pearl died in 1931, but Arnold went on to give them two grandchildren and at least three great-grandchildren according to Will's obituary in 1965. Ivy died at age 79 on January 26, 1971.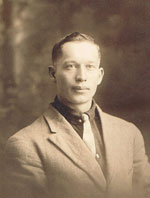 – Bessie M. was born on November 16, 1893. She married Mervin W. Sipes (left) and they had 4 children, Lawrence, Myrtle, Ruth, and Betty.
– – Lawrence was born July 4, 1910, and married Wilda Mildred McCracken and they had six children. He worked at Apollo Gas Co. in Ford City for 46 years. He also grew and sold fruit, and even Christmas trees in North Buffalo. He was on the North Buffalo School Board and it would be no surprise with five sons, that he was very active with the Boy Scouts. We believe he was the descendent who was a family history collector. Lawrence died Aug. 5, 1995.
– – Myrtle A. was born November 22, 1911, and married Oliver C. Pore and they had three girls. Myrtle loved to quilt and work in her garden. She died at the age of 90.
– – Ruth Irene was born March 14, 1916, and married Kenneth E. Bowser and had one son, Barry. Ruth operated an antique shop in North Buffalo for a short time before Kenneth's death.
– – Betty R. was born February 4, 1923. She married Harry Lester Moore and they had four children. Betty lived to be 88 years old. Her obituary was very touching:
"Her family was very important to her and they will always cherish the fond memories they shared of the 4th of July picnics and the family traditions at Christmas time. Betty was a tremendous baker, and she enjoyed playing bingo and was known as an ace at playing cards. Betty will always be remembered as a caring person and she was loved and adored by her grandchildren."
Bessie died fairly young at age 61; June 14, 1955. Her obituary states she was ill for six months. Mervin died the next year on May 23, 1956 at age 64.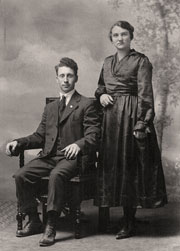 – Wesley "Dewey" was born on February 28, 1898. He married Genevieve O. Grafton, the daughter of William F. and Sarah Ann (McCollim) Grafton. William is the brother of Lawson Park Grafton who married Bessie, Minerva's sister. Genevieve was born in March 1898.
Dewey WWI draft registration card was dated Sept. 12, 1918. His eyes were grey, and hair red. He and Genevieve had six children, Lincoln, Mildred, Alton, Lenore, Josephine, and Leonard. Genevieve died in 1937, but sadly her daughter Josephine did as well.
In 1940 we find Dewey a widow, with his mother Minerva living with the family. In 1942 in Brooke, West Virginia there is a record of a marriage between Dewey and Mamie W. Breck.
Simpson's Leader-Times (Kittanning, Pennsylvania)
Nov 4, 1971 - Garretts Run Pair Mark Wedding Date -
Mrs. and Mrs. Chester Moore of Garretts Run Celebrated their silver wedding anniversary Monday as the couple were surprised by friends and relatives with a visit on the occasion.
Among those visiting were Mrs. Moore's father and step-mother, Mr. and Mrs.. Dewey Claypoole. The honored couple received a variety of gifts.


– – Lincoln Wesley was born Dec 3, 1919. He married Virginia Evelyn Gabbel in Brooke, West Virginia in 1941. The next year he enlisted in the U.S. Army on Oct 8, 1942. He was 5' 9" tall and weighed 150 lbs. No children were found for this marriage.
A headstone was found for Lincoln W. Claypool; died July 1995, which he shares with his wife. But, her name is Eleanor M. 1924-2003, so the assumption is that Eleanor was a second wife.
– – Mildred was born November 28, 1921, she was called "Midge". She married Harrison "Chester" Moore as we read in the Simpson's Leader-Times story above. The only thing found on Midge was:
U.S. Public Records Index, Volume 1
Name: Mildred G Moore
Birth Date: 28 Nov 1921
We did find a listing for Chester on findagrave.com. He died September 30, 1983, at which time Midge was still alive. Also, according to her brother Alton's obituary she had preceded him in death. So she had to have died before 2012.
– – Alton D was born on March 8, 1923. He followed in his brother's footsteps and enlisted in the U.S. Army on Jan. 20, 1943. He went on to work for Allegheny Ludlum Steel in Brackenridge for 41 years. He married Nora M. Warriner and they had four children, Janice, Raymond, Nancy, and David. Alton died on Sept. 28, 2012 at the age of 89.
Here is something from the Simpson's Leader-Times about both Lincoln and Alton -
Nov 27, 1931 - Primary Boys Band - Leo Simcik, Arnold Younkins, Lincoln Claypoole, Alton Claypoole, Ivan Ritzert, Jay Steele, Clark Livengood and Kenneth Grafton.
– – Lenore E was born August 2, 1925. She married Jerry Murray and they had three children, Jeff, Greg, and Beryl. Lenore enjoyed crocheting, embroidering and knitting, which probably contributed to co-owning Murray's Yarn Shop in Lower Burrell with her daughter in the 1970's. At some point her daughter married Gordon Olson and moved to Elyria, Ohio. Lenore joined her there and spent the last four years of her life living with Beryl and her family. She passed away on July 12, 2004.
– – Josephine C was born in 1928. We know nothing about her except that she died at 9-years-old in 1937, the same year as her mother. She is buried in Union Baptist Cemetery, North Buffalo, Armstrong County.
– – Leonard R was born August 2, 1933. The only thing we have been able to find out about Leonard is that in 1993 he lived in Leechburg, PA.
That completes Dewey and Genevieve's children. So now we will move onto Dewey's sister Rosie.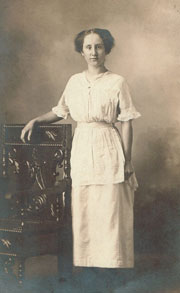 – Rosie Ellen (pictured at right) was born February 4, 1900. We found this wedding announcement newspaper clipping (year unknown):

Couple Wed at Union Baptist Parsonage
Ford City, Oct. 22. - The marriage of Miss Rosie Claypoole, daughter of Mr. and Mrs. J. W. Claypoole, North Buffalo township, to Clarence Bruner, son of Mr. and Mrs. O. D. Bruner, Kittanning, was quietly solemnized Wednesday afternoon at the Union Baptist parsonage, North Buffalo township Rev. L.S. Hoyle officiating. The groom was employed at the cement factory, Buffalo creek. The young people will make their home with the bride's parents for the present. Both have the best wishes of many friends for a long and happy married life.
Clarence's mother was actually Anna M. Jack, but we don't have a connection to the Jack family line as yet. Rosie and Clarence had no children that we could find. Clarence died May 21, 1963. Rosie died November 16, 1967 at the age of 67 following a "lengthy illness".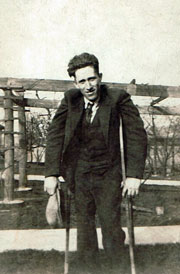 – Flevius L. is best described by the article in the Simpson's Leader-Times (Kittanning, Pennsylvania) Jan 24, 1931
Flevius Claypool's Death a Shock
Ford City - Flevius Claypool, 25, son of Mrs. Judson Claypool, of North Buffalo township, died at his home this morning at 4:45 o'clock following a lingering illness.
His death came as a distinct shock to his numerous friends. The deceased was well and most favorably known in this vicinity.
He is survived by his mother, Mrs. Judson Claypool, five sisters, Mrs. Joe McKelvey, Mrs. Ira Younkins, Mrs. Mervin Sipes, all of North Buffalo township, Mrs. Clarence Brunner, Slate Lick, Claire Claypoole at home; one brother, Dewey Claypool of North Buffalo township also survives.
Funeral arrangements have not been completed as yet.
On January 29, 1931 the funeral was held. There was a follow-up story which repeated most of the same information. But added this:
. . . Interment was made in the Union Baptist cemetery with the following pallbearers: Lawrence Sipes, Oliver Pore, Findley Livengood, Froan Ruffner, John Ruffner and Burleigh Claypool.
The following out of town people attended the funeral: Mr. and Mrs. David Spindler, of Oakmont, Mrs. Helen Hammond, of Oakmont, Mr. and Mrs. Charles Miller and son, Mr. and Mrs. Thomas Miller, Mrs. W.L. Miller and Mrs. Bessie Lasher, all of New Kensington, Mrs. Bessie Grafton, and children, Merch, Isabel, Stanley and June and Mr. and Mrs. Paul Grafton, of Leechburg, Mr. and Mrs. W.D. Gillam, of Grove City, and Joseph Maloser, of NuMine.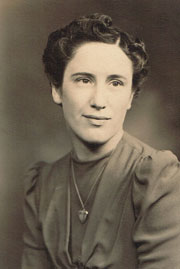 – Clare Lavell was born November 22, 1909. She married Raymond E. Streightif, but he died in 1958, and they had no children. She then married Arthur Molton Altman in 1959.
Simpson's Leader-Times (Kittanning, Pennsylvania)
August 11, 1959 - Newlyweds Feted at Jack School
A reception for newlyweds Mr. and Mrs. Arthur Altman was given Friday night at the Jack school near Slate Lick.
The guests of honor were presented with many lovely gifts. They have taken up residence in Kittanning RD 5 following a wedding trip to Canada
(A long list of guests followed)
That completes the family of Minerva and Judson. Judson died September 2, 1930, and on the 1940 census we find Minerva living with her son Dewey. She died on December 7, 1956, and at the time had ten grandchildren, 24 great grand-children and seven great-great-grandchildren.
Sources for primary Claypool(e) family members:

The research done on this line was driven by reading articles and obituaries in the Simpson Leader-Times (Kittanning, Pennsylvania). Facts and dates were consulted through the books mentioned above, census records, birth, marriage, and death records, as well as some wills, and family research. We do have these in our posession.
---
Untangling the Claypool Family Tree Mess
Researching the Claypool family tree in Pennsylvania started out with excited anticipation. The name brought up a number of books and resources with interesting reading and factual information. That is until we encounter James Claypool born 1742/3. Then as the saying goes, "it all went pear-shaped."
So, we will not go into explaining all the details, as there are many. Some accurate, some not so much. One place you can go is www.claypoolefamily.com and read B. M. Chapman's explanations, or there are numerous other websites and sources. Simply put here is how it seems to be -
There were two James Claypool's. One was the son of James and Rebecca (White) Claypool. The father was a painter, glazier, merchant, and Sheriff of Philadelphia City and County. Their son James born in 1743 was a portrait painter, educated, and was even a member of the "Freemasonry in Pennsylvania". He married Sarah Rench and had a number of children. In 1771 he later married Helen Frazier in the parish of Kingston Jamaica. They have more children, and all along James is producing artwork and selling it to well known people. He and his art was written about in papers, and there is correspondence documenting exact pieces. James Claypoole is mentioned in the "Jamaican Almanac" in the early 1800's. He was buried on March 23, 1822 at Kingston, Jamaica. So, common sense would tell us that this is not the James Claypool of Armstrong County Pennsylvania.
Our James Claypool married Lucretia Garwood on March 8, 1763. They moved around Armstrong County over the years, buying and selling different properties, and having their children. There are records of these transactions, and census records with their children. It is recorded that Lucretia died in 1796 in the Claypool Block House near Kittanning, Armstrong County, and James later married Rachel (last name unknown). In 1808 a deed was signed by James and Rachel with an "X" mark, which would mean they did not read or write. This would back up the idea that James was not an educated man, and not the son of James and Rebecca Claypool of Philadelphia.
This is a simple explanation, and we give no facts here. But it seems pretty clear that we need to look elsewhere for the father of our James Claypool.
UPDATE: Thanks to Mr. Chapman we are now aware of some wonderful new information. The Claypoole Surname YDNA Project webpage provides us with DNA results that lists - 162203 James Claypoole, c1742-c1814, Armstrong Co., PA. According to Mr. Chapman these results show that, ". . . descendants of James Claypole/Claypoole/Claypool of Armstrong Co., PA are related to descendants of Nathaniel Claypoole, 1672-1714, father of the 'Maryland' Claypooles and a son of James, 1634-1687, "the migrant". This is exciting news! We still don't know who our James' father was, but we are working on it, and if the information is out there we will find it.
---