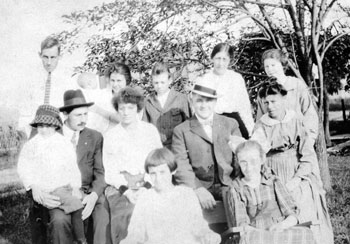 Cousins working on this line - Annemarie Halfpap, Norma Knight
Fry Family
We didn't discover the Fry line until we discovered the sisters of Martha "Agnes" Fry. One in particular was Emma. Her father was also David Taylor Fry, but her mother was his first wife, Eliza. Emma was the 2nd wife of Henry Reitler, and mother of Irene Ruth Walters. Agnes was Henry's first wife, and the daughter of David and his 2nd wife, Mary Emma Burkey.
In the picture on the right was written on back - "Agnes & Henry Reitler, Anna & Frank Dillon & Leroy. Emmie & Irene Walters, Irene & sister Emmie Reitler. Gretta and Denver Fry." After a bit of research, and looking at numerous other photographs we now can say that the couple on the right are Agnes (Fry) and Henry Reitler; their daughter Emma is behind Agnes, their daughter Irene is up front in the middle, and daughter Gretta married Denver Fry (on the far left back). Behind Henry is "Emmie" (Emma Fry) Walters, and up in front of Agnes is her daughter Irene Walters. That leaves the other sister Anna (Fry) and her husband Frank Dillon with their son Leroy. Oh, and the young man in the middle in the back, that would be Elmer Reitler, son of Henry and Agnes.
Here is a brief history of Agnes, Anna, and Emma's father David Taylor Fry that was provided by Norma Knight (granddaughter of Gretta Reitler):
"David Taylor Fry was a private with Company M, 14th Pennsylvania cavalry during the Civil War. He enlisted Feb 25, 1864 to July 31, 1865. He received a pension based on disability - Inysuptias(sic) and chronic diarrhea. The 14th Cavalry fought at Chanclerville, Bull Run and Wilderness.
David operated a ferry at Clinton, Armstrong County, PA and in 1893 worked as a repairman for the local glass factory."
Norma also found "Armstrong County Pennsylvania: Her People, Past and Present", Vol II. J.H. Beers & Co, Chicago 1914.
"Mr. Fry came to the county a single man, married and settled in South Buffalo township. Mrs. Fry died in 1857 at Clinton, Mr. Fry at the home of his son-in-law, Mr. Bush, in 1864. he was a farmer by occupation, and also a stonemason. He was a member of the Presbyterian Church. Mr. and Mrs. Fry had eleven children: Henry Clay is deceased; Martha B. is the widow of William Jack, of Franklin, Pa; Margaret M. is the widow of Jacob M. Bush; Cynthia is the widow of Abram Riggle, of Georgetown, Pa; Daniel G., a retired farmer, lives at Ford City, Pa.; Elizabeth is the widow of David Riggle, of Leechburg, Pa.; James is deceased; one son died in infancy' Lydia Ann married William McDowell, of Franklin, Pa.; Harriet, twin of Lydia, is deceased; David is a ferryman in Clinton, Pa." (He was in the Civil war).

---
Fry Family Line
1 Unknown Fry
+ [unknown spouse]
...2 Daniel Gardner Fry b: 17 Sep 1789 in New York, d: 27 Aug 1864 in South Buffalo, Armstrong, Pennsylvania
... + Anna Catherine Elizabeth Iseman b: 25 Aug 1793, m: 05 Aug 1814 in Westmoreland County, Pennsylvania, d: 07 Nov 1825 in S. Buffalo Township, Armstrong County, Pennsylvaina
......3 John Fry b: 28 May 1815 in PA, d: 24 Jul 1885 in Bethel Twp., Armstrong Co., PA
...... + Sarah J. Claypoole b: 08 Feb 1815 in Kittanning, PA, d: 22 Feb 1899 in Gilpin Twp., Armstrong Co., PA
.........4 Mary Catherine Fry b: 30 Apr 1836 in Armstrong, PA, d: 04 Nov 1916 in Kilbrush Twp., Allegheny Co., PA
......... + David Housholder
.........4 Elizabeth Fry b: 1837 in Allegheny Township, Armstrong Co., PA, d: Aft. 1919 + J. Campbell
.........4 Joseph S. Fry b: 1839, d: Aft. 1925
.........4 Lucretia Fry b: 1840, d: Bef. 1885
.........4 John Andrew Fry b: 03 Apr 1840 in Kelly Station, Bethel Twp., Armstrong Co., PA, d: 08 Mar 1925 in Bethel Twp., Armstrong Co., PA
.........4 George B. Fry b: 18 Feb 1843 in Allegheny Township, Armstrong Co., PA, d: 20 Nov 1916
.........4 Emily Fry b: 1845, d: Bef. 1919
.........4 Emmanuel Fry b: 1848 in Allegheny Township, Armstrong Co., PA, d: Bef. 1919
.........4 Levi Garrett Fry b: Feb 1849 in Allegheny Township, Armstrong Co., PA, d: 18 Dec 1919 in Paintertown, PA ......... + Malinda Johnson b: 22 Aug 1853 in Rayburn Township, Armstrong Co., PA, m: 10 Nov 1869, d: 19 Aug 1941 in Kittanning, PA
............5 Idella Fry b: 01 Jul 1870 in Sylvia, TN, d: 26 Jan 1947 in Rosston, PA
............5 Oscar Harvey Fry b: 28 Jan 1873 in Dixon County, TN, d: 18 Jun 1963 in Butler, PA
............ + Ada Samantha McElfresh b: 06 Nov 1874 in Rosston, PA, d: 22 May 1943 in Johnson Ave, Kittanning, PA
...............6 Norman Ellsworth Fry b: 20 Oct 1892, d: 08 Dec 1971 + Mary Viola Fair
...............6 Denver Leonard Fry b: 03 Nov 1894 in Ford City, PA, d: 07 Jul 1949 in Kittanning, PA
............... + Johanna Margaretta Reitler b: 28 Mar 1897 in Ford City, Armstrong Co., PA, m: 06 Dec 1915, d: 02 Mar 1984 in Harrisville, PA
...............6 Infant Fry b: 28 Mar 1898, d: 28 Mar 1898
...............6 Oscar Earl Fry b: 07 Oct 1901 in McKain, PA, d: 04 Aug 1935
...............6 Raymond T Fry b: 08 Jan 1904, d: 06 Jun 1929 in Hawaii
...............6 Perry Jefferson Fry b: 23 Aug 1907 in McGrann, Manor Twp, Armstrong Co., PA, d: 16 Jul 1965 in Butler, PA
............... + Bessie Lockhart
...............6 Harry Kenneth Fry b: 06 Jan 1915, d: 15 Oct 1971
...............6 Ethel Fry
............... + Hogenmiller
............... + Curtis Krause
............5 Sarah Etta Fry b: 12 Jul 1880 in Dixon County, TN, d: 29 Mar 1947 in Ford City, PA
.........4 Daniel Fry b: Abt. 1852, d: Aft. 1925
.........4 Aaron Thomas Fry b: Apr 1854 in Armstrong, PA, d: Aft. 1919
.........4 Sarah Ellen Fry b: 1859, d: Bef. 1919 + William Morrow
......3 Catherine Fry b: 11 Apr 1817 in Westmoreland County, d: 02 Feb 1858 + Matthew Jack b: 1807 in Buffalo Township, Armstrong, PA
......3 Nicolas Fry b: 05 Feb 1819 in Clinton, Armstrong, PA, d: 09 May 1895 in Leechburg, PA
......3 Mary Fry b: 14 Mar 1821 in PA, d: 25 Mar 1904 in Bethel Twp., Armstrong Co., PA
......3 Hannah Fry b: 23 Jan 1823, d: Mar 1874
......3 George Fry b: 15 May 1825 in Allegheny Township, Armstrong Co., PA, d: 11 Nov 1825
...... + Elizabeth Jack b: 24 Mar 1803 in Gilpin Township, Armstrong, PA, m: 21 Sep 1826 in Allegheny Township, Armstrong, PA, d: 02 Feb 1858 in Clinton, South Buffalo Township, Armstrong, PA
......3 Henry Clay Fry b: 1828 in S. Buffalo Township, Armstrong County
......3 Martha Belle Bingham Fry b: Jan 1829 in S. Buffalo Township, Armstrong County
...... + William Jack
......3 Margaret M Fry b: 1831 in S. Buffalo Township, Armstrong County
...... 3 Jacob M. Bush b: 27 Jul 1828 in South Buffalo, Armstrong, PA, m: 27 Oct 1853, d: 14 Jun 1904 in South Buffalo, Armstrong, PA
.........4 Anna Alice Bush b: 30 Apr 1856 in S. Buffalo Township, Armstrong County, PA
.........4 Eveline Bush b: 14 Nov 1857 in S. Buffalo Township, Armstrong County, PA, d: 14 Apr 1884
......... + T B Stepp
.........4 Adeline Bush b: 14 Nov 1857 in S. Buffalo Township, Armstrong County, PA, d: 19 May 1911
......... + G B Jack
............5 Harry G Jack
............5 Elmer D Jack
............5 James Harvey Jack
.........4 Elmer E Bush b: 25 Apr 1861 in S. Buffalo Township, Armstrong County, PA
......... + Hannah Jane Stepp m: 1882
............5 Charles Edgar Bush
............5 George Oliver Bush
............5 Mildred Ruth Bush
............5 Margaret Hazel Bush
.........4 Ulysses Grant Bush b: 08 Apr 1864 in S. Buffalo Township, Armstrong County, PA
......... + Adeline Ferguson
............5 Winona Olive Bush
............5 William Jacob Bush
............5 Edna Blanche Bush
............5 Thomas Albert Bush
............5 Viola Grace Bush
............5 Lewis Grant Bush
.........4 Clarence D Bush b: 18 Jun 1869 in S. Buffalo Township, Armstrong County, PA, d: 14 Oct 1908
......... + Edith C Hudson
............5 Ida May Bush
............5 Lyda Luella Bush
............5 John Irwin Bush
............5 Clarence Merle Bush
............5 Herbert Ralph Bush
............5 Margaret Maude Bush
............5 Wilma Edith Bush
.........4 Clyde T Bush b: 14 Jun 1871 in S. Buffalo Township, Armstrong County, PA
......... + Bertha Shaffer
............5 James Warren Bush
............5 Nellie Bell Bush
............5 Walter Lee Bush
............5 Mabel Althea Bush
............5 Robert J Bush
............5 Martha Alice Bush
............5 Florence Irene Bush
............5 Edward Day Bush
.........4 Martha E Bush b: 01 Feb 1874 in S. Buffalo Township, Armstrong County, PA, d: 15 May 1895
......3 Synthia Handcock Fry b: Aug 1832 in S. Buffalo Township, Armstrong County
...... + Abram Riggle
......3 Daniel Gardner Fry b: 10 Oct 1835 in Armstrong, PA, d: 17 Aug 1930
...... + Rebecca Lowers Ross b: 06 Dec 1840 in Armstrong Co, PA, m: 09 Dec 1858 in Westmoreland, PA, d: 05 Feb 1891 in McVille, Armstrong, PA
.........4 Thomas R Fry b: Abt. 1859 in PA
.........4 Craig H Fry b: Abt. 1861 in PA
.........4 Harry Alonzo Fry b: 23 Mar 1863 in Clinton, Armstrong, PA, d: 04 Nov 1874 in Clinton, Armstrong, PA
.........4 Laura M Fry b: Abt. 1865 in PA
.........4 Dee M Fry b: Abt. 1867 in PA
.........4 James R Fry b: Abt. 1869 in PA
.........4 Martha Bella Fry b: Dec 1871 in PA
.........4 Margaret O Fry b: Abt. 1874 in Armstrong County, PA
.........+ Harry L Shearer b: Abt. 1868 in PA, m: 24 May 1894 in Clinton, Armstrong, PA
............5 Ethel B Shearer b: Apr 1895 in PA
............5 Mabel G Shearer b: Apr 1897 in PA
............5 Margretta Shearer b: Abt. 1901 in PA
............5 Ellalou Shearer b: Abt. 1907 in PA
............5 Harry Shearer b: Abt. 1909 in PA
............5 Olive M Shearer b: Abt. 1911 in Allegheny, PA
............5 James E Shearer b: Abt. 1913 in Allegheny, PA
............5 Rebecca L Shearer b: Abt. 1916 in Allegheny, PA
.........4 Annie L Fry b: Abt. 1877 in PA
.........4 Mary L Fry b: Oct 1879 in South Buffalo, Armstrong, PA
...... + Angelina Permanda Rolfe b: 29 Apr 1834 in PA, m: 06 Aug 1895 in Butler, PA, d: 04 Dec 1914
......3 James R Louden Fry b: 27 May 1837, d: 22 Dec 1859
......3 Hiram Fry b: 1841, d: 1842
......3 Elizabeth Jane Fry b: Sep 1841 in Armstrong, PA
...... + David Riggle
......3 Lydia Ann Fry b: 1845 in S. Buffalo Township, Armstrong County, Pennsylvaina
...... + William McDowell
......3 Harriet Fry b: 1845 in S. Buffalo Township, Armstrong County, PA
......3 David Taylor Fry b: 01 Feb 1846 in S. Buffalo Township, Armstrong County, Pennsylvaina, d: 14 Mar 1927 in Meadville, PA
...... + Eliza Jane Scott b: 23 May 1848 in Slate Lick, Armstrong County, PA, m: Bef. 1867, d: Abt. 1873 in Armstrong County, PA
.........4 Clara Almeda Fry b: Abt. 1867 in PA, d: 1897 in PA
.........4 Mary E "Mollie" Fry b: Oct 1868 in Clinton, Armstrong, PA, d: 04 Apr 1947 in Kittanning, Armstrong, PA
.........4 Emma Louise Fry b: 08 Aug 1870 in Clinton, Armstrong, PA, d: 03 Mar 1940 in Ford City, Armstrong Co., PA
......... + Jefferson Walters b: Abt. 1858, m: 02 Jun 1903 in Armstrong County, PA
............5 Ruth Irene Walters b: 18 Oct 1906 in Gilpin, Armstrong, PA
............ + Samuel E Lewis b: Abt. 1904 in Maryland
...............6 Walter E Lewis b: Abt. 1925 in PA
...............6 Alma Lewis b: Abt. 1927 in PA
...............6 Helene Lewis b: Abt. 1929 in PA
...............6 Margaret Lewis b: Abt. 1931 in PA
......... + Henry (Heinrich) Reitler b: 25 Jun 1876 in Saarbrucken Pfalz, Germany, m: 24 Oct 1918 in Kittanning, PA, d: 03 Sep 1942 in Ford City, Armstrong Co., PA
...... + Mary Emma Burkey b: 1853 in PA, m: 14 Jul 1874 in Armstrong Co, PA, d: 03 Jun 1898 in Gilpin Township, Armstrong, PA
.........4 David Alonzo Fry b: 27 Aug 1874 in S. Buffalo Township, Armstrong County, d: 25 Mar 1877 in Clinton, Armstrong, PA
.........4 Francis Sloan Fry b: 16 Oct 1876 in Clinton, Armstrong, PA
.........4 Martha Agnes Fry b: 16 Apr 1879 in Clinton, Armstrong, PA, d: 20 May 1918 in Ford City, Armstrong Co., PA
......... + Henry (Heinrich) Reitler b: 25 Jun 1876 in Saarbrucken Pfalz, Germany, m: 26 Jan 1897 in Ford City, Armstrong, PA, d: 03 Sep 1942 in Ford City, Armstrong Co., PA
............5 Johanna Margaretta Reitler b: 28 Mar 1897 in Ford City, Armstrong Co., PA, d: 02 Mar 1984 in Harrisville, PA
............ + Denver Leonard Fry b: 03 Nov 1894 in Ford City, PA, m: 06 Dec 1915, d: 07 Jul 1949 in Kittanning, PA
...............6 Oscar Henry Fry b: 30 Jan 1917 in Ford Cliff, Armstrong, PA, d: 28 Dec 1997 in PA
............... + Ella Margaret Titus b: 30 Jun 1918 in Rayburn, Armstrong, PA, m: 28 Aug 1937 in Worthington, Armstrong, PA, d: 29 Dec 2003 in PA
...............6 Robert Eugene Fry b: 17 Aug 1918 in Armstrong, PA, d: 07 Sep 1990 in Butler County, PA
............... + Harriet Marie Luke m: 31 Dec 1936
...............6 Lillian Lucille Fry b: 11 Sep 1920 in Armstrong Co, PA, d: 10 Dec 2010 in Kittanning, Armstrong, PA
............... + John Milliron b: 17 Nov 1919 in PA, m: 09 Mar 1940 in Kittanning, Armstrong, PA, d: 14 Apr 2011 in Kittanning, Armstrong, PA
...............6 Clifford Leroy Fry b: 01 Oct 1924 in Rayburn, PA, d: 22 Jan 1986 in Kittanning, Armstrong, PA
...............6 Harry Elmer Fry b: 23 May 1928 in Rayburn, PA, d: 24 May 1928 in Rayburn, PA
...............6 Ada Lorraine Fry b: 17 Feb 1931 in Rayburn, PA + Paul Book b: PA
............5 Daniel F Reitler b: 28 Jul 1898 in Ford City, Armstrong, PA
............5 David Francis Laverne Reitler b: 23 Jan 1899 in Ford City, Armstrong Co., PA, d: 10 Oct 1899 in Ford City, Armstrong Co., PA
............5 Emma Lillian Reitler b: 23 Aug 1900 in Ford City, Armstrong Co., PA, d: 14 Dec 1982 in Armstrong, PA
............ + Cloyd Garland Ranger b: 13 May 1902 in Ford Cliff, Armstrong Co., PA, m: 04 Oct 1920 in Appleby Manor, Ford Cliff, PA, d: 27 Mar 1983 in Ford Cliff, PA
...............6 Calvin Dale Ranger b: 16 Nov 1921 in Ford Cliff, Armstrong Co., PA, d: 10 Dec 1975 in Ford City, Armstrong, PA
............... + Bernadine Kutchenreiter b: 06 May 1923 in Armstrong Co, PA, d: 21 Aug 1994 in Ford City, Armstrong Co., PA
...............6 Margaret Jane Ranger b: Abt. 1925 in Ford Cliff, Armstrong Co., PA
............... + Jay H Livengood b: 25 Sep 1921 in Ford Cliff, Armstrong Co., PA, d: 29 Dec 2008 in North Myrtle Beach, Horry, South Carolina
...............6 Terry Michael Ranger b: 11 May 1944 in Ford Cliff, Armstrong Co., PA
+ Betty Jean Wolfe m: 23 Jan 1965 in Montgomeryville Baptist Church, Adrian, PA
............5 Elmer Herman Reitler b: 21 Jan 1903 in Ford City, Armstrong Co., PA, d: 28 Feb 1976 in Ford Cliff, PA
............ + Mabel Angela Duffy b: 24 Apr 1903 in Luthersburg, Clearfield County, PA, m: 16 Aug 1923 in Armstrong County, PA, d: 30 Apr 1981 in Kittanning, PA
...............6 Dorothy Clare Reitler b: 27 Jun 1924 in Ford Cliff, Armstrong Co., PA, d: 15 Jan 2001 in Kittanning, Armstrong, PA
............... + Donald Wayne Morris b: 19 Dec 1926 in West Kittanning, Armstrong, PA, m: 29 Mar 1946 in Armstrong County, PA, d: 20 Jul 2002 in Kittanning, Armstrong, PA
...............6 Roger Arleen Reitler b: 27 Jun 1929 in Ford Cliff, PA, d: 01 Apr 1965 in Fultonville, New York
............ 5 Irene Garrison Reitler b: 16 Sep 1907 in Ford City, Armstrong Co., PA, d: 09 May 2002 in Beavercreek, OH
............ + Sidney Murphy b: 26 Oct 1904 in Kittanning, Armstrong, PA, m: 11 Jun 1924 in Ford City, Armstrong Co., PA, d: 16 Feb 1967 in Kittanning, Armstrong, PA
............ + Raymond Rayner Walker b: 23 Mar 1905 in Manor Township, PA, m: 17 Nov 1927 in Appleby Manor Presbyerian Church House, Ford City, Armstrong Co., PA, d: 21 Aug 1992 in Dayton, Ohio
............5 Benjamin Franklin Reitler b: 10 May 1910 in Ford City, Armstrong Co., PA, d: 05 Jan 1996 in Kittanning, PA ............ + Ruth Elizabeth Smart b: 03 Feb 1913 in Force, PA, m: 1936, d: 27 May 2002 in Kittanning, PA
...............6 Peggy Lou Reitler b: Abt. 1931 in PA
............... + Gilliland
...............6 Lexie Ann Reitler b: 29 Sep 1936 in Ford City, Armstrong, PA, d: 21 May 2006 in Saxonburg, Butler, PA
............... + Bauer
...............6 Rosalie Y Reitler b: 21 Nov 1937 in Kittanning, Armstrong, PA, d: 11 Dec 2009 in Kittanning, Armstrong, PA
............... + Robert M Scadden
...............6 Benjamin Franklin Reitler b: 18 Apr 1941 in PA, d: 16 Nov 2005 in PA
............... + Marian Arlene Brown m: Abt. 1961
...............6 Gary L Reitler b: 19 Jul 1948 in Kittanning, Armstrong, PA, d: 29 May 2013 in Kittanning, PA
............... + Idella Watkins m: 30 Nov 2004
...............6 Dale R Reitler b: PA
...............6 Pamela S Reitler b: PA
............... + Rick Shaffer
...............6 Melissa J. Reitler b: PA
............5 Edward Wayne Reitler b: 29 May 1915 in Ford Cliff, PA, d: 12 Feb 1980 in Shirleysburg, PA
............ + Anna H. Burdette b: 19 Jun 1918 in Ford City, Armstrong Co., PA, m: 26 Mar 1938 in Ford City, Armstrong, PA, d: 27 Jan 1990 in Hershey, PA
...............6 Mary Louise Reitler b: 31 Aug 1938 in Ford City, Armstrong, PA, d: 18 Nov 2010 in Armstrong County, PA
............... + Virgil C Aites d: 1989
............... + William R Coon d: 2002
...............6 Henry W Reitler b: 27 Oct 1939 in Manor Township, PA, d: 26 Jun 2013 in East Brady, Clarion, PA
...............6 Bonnie Mae Reitler b: 09 Apr 1948 in PA, d: 06 Mar 2013 in Winchester, Tennessee
............... + Jessie Akers
...............6 Edward H Reitler
...............6 Nancy Reitler
............... + Michael Gallo m: 1966, d: Abt. 1993
............... + Harold Crihfield b: 21 Dec 1926, d: 13 Nov 2009 in Uneeda, West Virginia
...............6 Monessa Reitler
............... + Unknown McGinnis
...............6 Timothy Reitler
...............6 Judith Reitler
............... + Richard Aites m: 19 Mar 1961
...............6 Connie Marie Reitler b: PA
............... + Galen Eugene Conner
...............6 Joan Kay Reitler
............... + Stanley H Grafton m: 11 Mar 1962 in Church of God of Prophecy, Neale Ave., Ford City, Armstrong Co., PA
...............6 Cheryl Reitler
............... + Unknown Usher
............... + Donald McGinnis
...............6 Debra Reitler
............... + Karry Wray
...............6 Dolly Reitler
............... + Kenneth Bowser
.........4 Ada E Fry b: Jul 1882 in Clinton, Armstrong, PA
......... + Thomas Archibald b: Abt. 1859, m: 22 Jan 1898 in Ford City, Armstrong Co., PA
............5 Mary Belle Archibald b: Jul 1898 in Freeport, Armstrong, PA
............5 Glenn Archibald b: Mar 1900 in Freeport, Armstrong, PA
............ + Albert Weiss b: Abt. 1878 in PA
............5 Armina Weiss b: Abt. 1904 in PA
............ + Benjamin F Walker b: 29 Mar 1899 in PA, m: 26 Apr 1920 in Wellsburg, Brooke, West Virginia
...............6 Evener G Walker b: Abt. 1921 in PA
.........4 Anna B Fry b: Sep 1884 in Clinton, Armstrong, PA
+ Frank Dillon m: 27 Jul 1904 in Kittanning, Armstrong Co., PA
............5 Leroy Dillon b: Abt. 1910 in Armstrong Co, PA
.........4 Infant Fry b: 1892, d: 1892
......... + Catherine B Bissett b: Abt. 1853, m: 30 Apr 1902 in Kittanning, Armstrong, PA
......3 Mary Fry b: 1847
......3 George Fry b: 1848 in S. Buffalo Township, Armstrong County
...2 John Fry
... + [unknown spouse]
......3 A. J. Fry
...2 Henry Fry
Sources for primary Fry family members:
Cemetery records: Crooked Creek Presbyterian Cemetery: Bethel Twp., Armstrong Co
"A History of Armstrong County" by Robert Walter Smith, 1883
Pennsylvania Probate Records
Simpson Leader-Times, Kittanning, Pennsylvaina
---