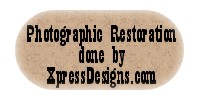 From the Hedger Archives
page 1
Below you will find some old pictures found by one of the Hedger cousins, Sharon, in her grandparentsí house. This would be Albert Edward Hedger & Leta Maureen Back. They were married October 01, 1932. Unfortunately we do not know who these people are.
These pictures are tintypes which was invented around 1856, and were in general use until the early 1920ís. People could easily get their pictures taken by street vendors and they didnít have to wait around for prints. They were also pretty affordable to the general population. So this leads us to believe they came from the previous generation of Alfred and Agnes Hedger. If you look at their wedding picture you might see some familiarities.
(Please note that some of these pictures have not been restored yet)